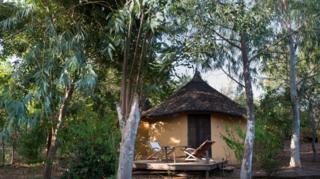 Gunmen have stormed a tourist resort in Mali popular with westerners and two people are dead, the country's security minister has said.
Officials said "suspected jihadists" were behind the assault.
Locals reported hearing shots fired at the luxury destination – Le Campement Kangaba resort in Dougourakoro, to the east of the capital Bamako.
Malian troops and soldiers from France's Bakhane counter-terrorist force are at the scene.
The attack is said to be ongoing.
Security forces are battling the gunmen, and it is not yet clear who the casualties are.
"Security forces are in place. Campement Kangaba is blocked off and an operation is under way," security ministry spokesman Baba Cisse told Reuters.
The European Union training mission in Mali, EUTMMALI, tweeted that it was aware of the attack and was supporting Malian security forces and assessing the situation.
On its website, Le Campement resort says it offers "charming rooms, delicious and healthy food, a garden of Eden and dream pools".
BBC correspondent Alex Duval Smith says many expats and wealthy Malians go to Kangaba at weekends, to enjoy the pools, cocktail bar, canoeing facilities, and other activities for children.
Mali has been fighting a jihadist insurgency for several years, with Islamist fighters roaming the country's north and centre.
In November 2015, at least 20 people were killed when gunmen took guests and staff hostage at the Radisson Blu hotel in Bamako.
Al-Qaeda's North African arm, Al-Qaeda in the Islamic Maghreb (AQIM), said it was behind that siege.
Mali has been in a state of emergency since the Radisson Blu attack. It was extended for a further six months in April.
The country's security has gradually worsened since 2013, when French forces repelled allied Islamist and Tuareg rebel fighters from parts of the north.
French troops and a 10,000-strong force of UN peacekeepers have been battling to stabilise the former French colony.