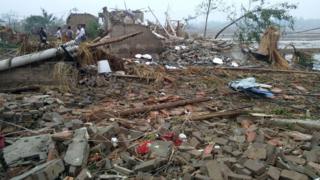 Extreme weather events have killed 51 people in eastern China and injured dozens more, state media say.
Official news agency Xinhua reports that a tornado accompanied by torrential rain and hailstorms hit the province of Jiangsu on Thursday afternoon.
Homes in Yancheng city were flattened, it adds.
CCTV showed overturned vehicles, snapped street light poles and toppled electricity pylons, AP reports.
Many parts of China have been hit by torrential rains this week.
Floods in central China killed 22 people and displaced nearly 200,000, state media said.
Direct economic losses from the floods were estimated at 2.7bn yuan ($410m).
China's vice premier Wang Yang has said that China faces volatile weather conditions as a result of the influence of El Nino on weather patterns.