Charleston church shooter's friends describe racist views as survivors recall … – Fox News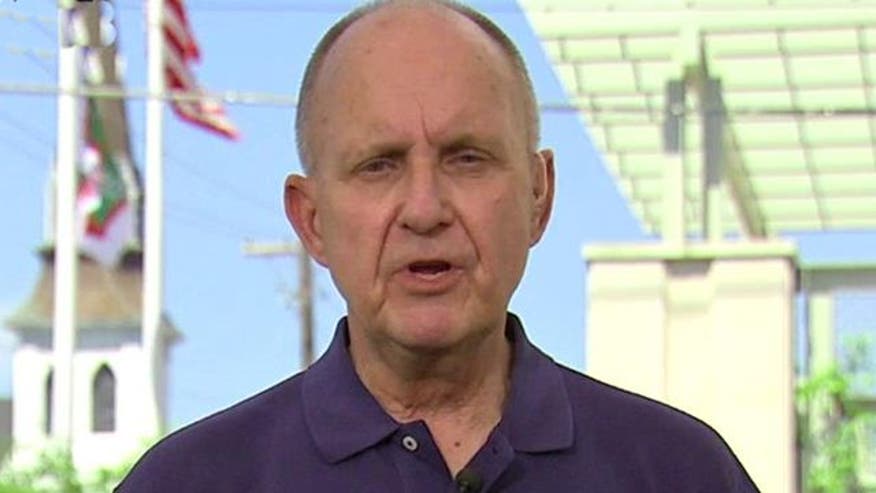 Survivors of Wednesday's horrific mass shooting at a South Carolina church played dead to avoid the gunman's attention, congregants said Thursday as more details were revealed about the crime and the shooter's hatred for African-Americans.
Nine people were killed Wednesday when 21-year-old Dylann Roof walked into a Bible study class at the Emanuel African Methodist Episcopal Church in Charleston, stayed until the session was about to end, then opened fire. Roof was arrested Thursday in North Carolina and extradited back to South Carolina ahead of a scheduled Friday bond hearing.
Cynthia Taylor, whose 87-year-old aunt Susie Jackson was among the victims, told the Associated Press that shooting survivor Felecia Sanders told Taylor that Sanders had played dead as she lay on top of her granddaughter to protect her during the shooting. Another survivor, a trustee of the church, said Roof told her he would let her live so that she could tell others what had happened.
Surveillance video showed Roof entering the church at approximately 8:15 p.m. local time, 50 minutes before police said they received the first call about the shooting. The Charleston Post and Courier newspaper reported that the Bible study group had been examining passages from the Gospel according to Mark. However, law enforcement officials told The Washington Post that Roof sat quietly and declined to take part in any discussion.
Snapchat video taken by one of the victims, 26-year-old Tywanza Sanders, appears to show Roof moments before the shooting. It was obtained by the website Mashable and shows a white man sitting in one corner of the discussion group. The man's face is not visible, but he is wearing the gray sweatshirt authorities said Roof was wearing at the time of the shooting.
Sylvia Johnson, a cousin of Emanuel's murdered pastor, state Sen. Clementa Pinckney, told NBC News that Roof said as he started shooting, "I have to do it. You rape our women and you're taking over our country. And you have to go." Witnesses said Roof shot his victims at close range, stopping to reload several times.
The Justice Department said that the shooting would be investigated as a hate crime, while school friends of Root's described a young man with strong racist views that had sharpened in the past few months.
In an interview with The Associated Press, Joseph Meek Jr. said he and Roof had been best friends in middle school but lost touch when Roof moved away about five years ago. The two reconnected a few weeks ago after Roof reached out to Meek on Facebook, Meek said.
Roof never talked about race years ago when they were friends, but recently made remarks out of the blue about the killing of unarmed black 17-year-old Trayvon Martin in Florida and the riots in Baltimore over the death of Freddie Gray in police custody, Meek said.
"He said blacks were taking over the world. Someone needed to do something about it for the white race," Meek said, adding that the friends were getting drunk on vodka. "He said he wanted segregation between whites and blacks. I said, 'That's not the way it should be.' But he kept talking about it."
Dalton Tyler, Roof's roommate, told ABC News that Roof had been "planning something like [the shooting] for six months."
"He was big into segregation and other stuff," Tyler said. "He said he wanted to start a civil war. He said he was going to do something like that and then kill himself."
Tyler told The New York Times that he did not take Roof's statements seriously. 
"I was just like, 'You're stupid,'" Mr. Tyler said. "He was a racist; but I don't judge people."
Meeks said Roof also told him that he had used birthday money from his parents to buy a gun and that he had "a plan." He didn't elaborate on what it was, but Meeks said he was worried — and said he knew Roof had the "Glock" — a .45 caliber pistol — in the trunk of his car.
Meek said he took the gun from the trunk of Roof's car and hid it in his house, just in case.
"I didn't think he would do anything," he said.
But the next day, when Roof was sober, he gave it back. Officials told The Washington Post that Roof had the gun on him when he was arrested Thursday.
Meek said that when he woke up Wednesday morning, Roof was at his house, sleeping in his car outside. Later that day, Roof dropped Meek off at a lake with his brother Jacob, but Roof hated the outdoors and decided he would rather go see a movie.
Jacob said that when he got in the car, Roof told him he should be careful moving his backpack in the car because of the "magazines."
Jacob said he thought Roof was referring to periodicals, not the devices that store ammunition.
"Now it all makes sense," he said.
Joseph Meek said he didn't see his friend again until a surveillance-camera image of a young man with a soup-bowl haircut was broadcast on television Thursday morning in the wake of the shooting. Meek said he didn't think twice about calling authorities.
"I didn't think it was him. I knew it was him," he said.
Roof's Facebook page, which has been removed since the shooting, appeared to confirm white supremacist views. One picture showed Roof staring into the camera while wearing patches depicting the flags of apartheid South Africa, and white-ruled Rhodesia, which became known as Zimbabwe in 1980.
Roof displayed a Confederate flag on his license plate, according to Meek's mother, Kimberly Konzny, but that is not unusual in the South.
The Southern Poverty Law Center, a civil rights group that tracks hate organizations and extremists, said it was not aware of Roof before the rampage. And some other friends interviewed said they did not know him to be racist.
"I never thought he'd do something like this," said high school friend Antonio Metze, 19, who is black. "He had black friends."
The Associated Press contributed to this report. 
CommentsWrite a Reply or Comment: