What was the first ever record or CD you bought?
An LP of Brahms Symphony No 2 with Bernstein conducting the New York Philharmonic. I probably wore it out, I listened to it so often.
How do you listen to music?
I have a large CD collection at home but when I'm on the road I usually listen to music via Naxos library, iTunes and Spotify.
What was the last piece of music you bought?
I just ordered a CD of Stephen Paulus: Mass for a Sacred Place, which is a piece I will perform with the Minnesota Orchestra next month.
What's your musical guilty pleasure?
I wouldn't say it is a guilty pleasure, but I listen to lots of jazz.
If you found yourself with six months free to learn a new instrument, what would it be?
I have arranged a lot of music and also enjoy a bit of composing as well, so I would say a synthesiser. I would like to play around with all of the different sounds and colours for composing purposes.
Did you ever consider a career outside of music? Doing what?
When I was a kid, I wanted to be a truck driver. I still enjoy driving a lot, so it might not be a bad back-up plan.
What single thing would improve the format of the classical concert?
The more communication between the composers/performers and the audience there is the better. Very often there isn't any means or the time to interact with one another, and that is unfortunate.
If you had to pick one work to introduce someone to the wonders of classical music, what would it be?
For me, it was the Brahms symphonies, but everyone has completely different tastes. I could also say a piece by Sibelius, but I am definitely biased.
Which conductor or performer of the past would you like to have worked with?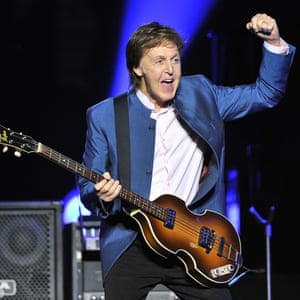 Imagine you're a festival director here in London with unlimited resources. What would you programme – or commission – for your opening event?
I would commission a large work from Paul McCartney.
What's the most unusual place you've performed?
Last year I went to South Africa to work with the South African Youth Symphony, and we had the chance to play in the Regina Mundi Church in Soweto, where the power wasn't working at the time. There is a lot of political history in that church (especially the 70s), and it was incredibly moving and memorable to play there.
We're giving you a time machine: what period, or moment in musical history, would you travel to and why?
I would love to be able to sit in the Thomaskirche in Leipzig to listen to Bach's new works almost every Sunday.
What do you sing in the shower?
Singin' in the Rain!
• Osmo Vänskä is music director of the Minnesota Orchestra. He conducts a complete cycle of Sibelius's symphonies with the London Philharmonic Orchestra on 19, 21, 26 and 28 October at the Royal Festival Hall, London.